Violin/Viola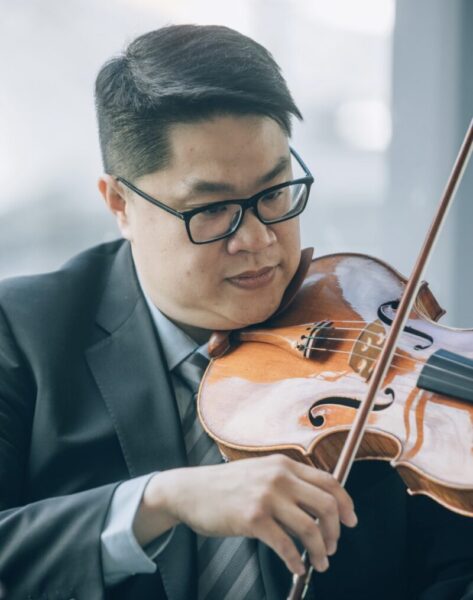 moving to Vancouver, Manti Poon furthered his studies in viola performance with Professor David Harding at the University of British Columbia on full scholarship. Since then he has become a much sought-after musician in British Columbia as a soloist, orchestral musician and chamber music collaborator.
Apart from holding the position of principal violist with the Vancouver Island Symphony Orchestra, he also performed with the Vancouver Symphony Orchestra, the Vancouver Opera Orchestra and the CBC Vancouver Orchestra, to name a few. Mr. Poon was a member of the Vancouver String Quartet and had also collaborated with the members of the Pacific Rim String Quartet, the Rose Gellert String Quartet, the Koerner String Quartet, the Borealis String Quartet, the Purcell String Quartet and the Emerson String Quartet.
Mr. Poon had served on faculty at the Douglas College, the Kwantlen Polytechnic University, the Vancouver Academy of Music and the VSO School of Music. He also coaches violin and viola at West Point Grey Academy. Mr Poon is the associate conductor with the Intermediate Strings of the Richmond Delta Youth Orchestra. He coached and conducted the Vancouver Youth Symphony Orchestra, the Surrey Youth Symphony Orchestra, the Vancouver Academy Symphony Orchestra and the Coquitlam Youth Orchestra. He was the Chamber Music Director at the Surrey Youth Symphony Orchestra. Mr. Poon was also on faculty at UBC String Music Camp, Courtney Youth Music Camp, VAM Sea to Sky Music Camp, Quiring Chamber Music Camp and MMM Music Camp in Washington State.
Mr. Poon performs on fine instruments by Marino Capicchioni and a rare Sartory viola bow on loan to him by Poesis Fine Instruments & Bows.